I love my kids so much!! I fall totally and completely in love with them every time I see them. It is amazing to see how much they grow and change every day. They are a lot alike in some ways- very active, love to climb, and they both love animals. But, they are very different too, Hunter has blonde hair and blue eyes, while Hailey has brown hair and eyes. Hailey loves books, Hunter loves to "build" things. There is no question though that they love each other!!
Hailey is just a year old, but she seems like she is older. She knows what she wants 99% of the time, and determined to get it 100% of the time. LOL She loves to cuddle, being sung to, and being gently tickled. She hates to be told no, and already knows how to win daddy over to her side.
Here is a picture of her on Sunday after church. I will tell you what I told everyone at church- you better get a good look at her hair now, because I will probably never get to do it again. (If she has her way!! You would have thought I was killing this kid, just trying to make her hair look cute!LOL)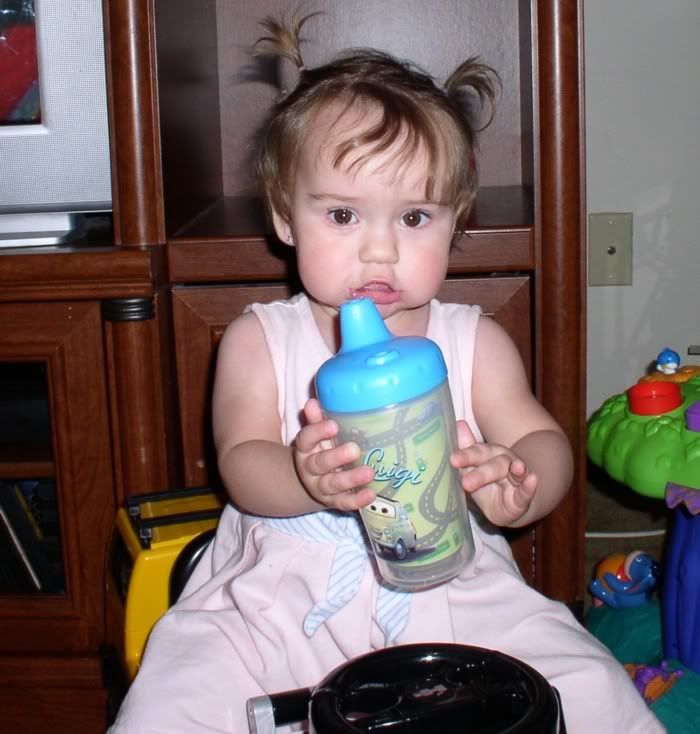 I love those first little pigtails on little girls. That is just one of the many things that makes having little girls so much fun.
HB is speaking to a local 4-H group tonight about hay. I think most of the kids are horse lovers and wanted to know all about raising and selecting the best hay for their horses. He is really excited, he gets to teach kids AND talk about "farm stuff"- both are things he loves.
Until later~