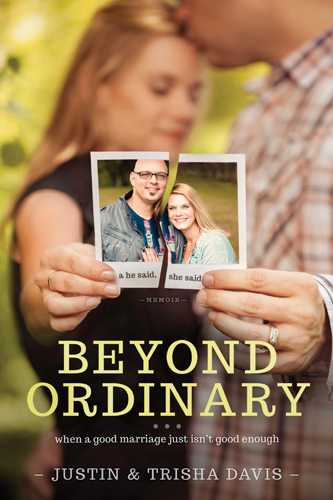 How safe is your marriage? The answer may surprise you. The biggest threat to any marriage isn't infidelity or miscommunication. The greatest enemy is ordinary. Ordinary marriages lose hope. Ordinary marriages lack vision. Ordinary marriages give in to compromise. Ordinary is the belief that this is as good as it will ever get. And when we begin to settle for ordinary, it's easy to move from "I do" to "I'm done."
Justin and Trisha Davis share with the reader their honest and transparent journey toward a marriage that is more than ordinary. The journey starts with them falling in love in college, continues through various ministries and moves and concludes with their ongoing restoration after the betrayal of adultery.
Beyond Ordinary is written so that the reader experiences the viewpoints of both authors in a "he said/she
said" fashion followed by collaboration by both Justin and Trisha in each chapter. Each chapter ends with four
thought provoking questions.
I found Beyond Ordinary to be riveting and aesthetic. It left me not only inspired to strive for an extraordinary marriage, but also a closer, "less ordinary" daily walk with Christ. I have been following Justin and Trisha on Twitter and on their blog for the past couple of years and knew their "story" but I still found Beyond Ordinary to be superb and encouraging. You do not have to be dealing with infidelity to appreciate Beyond Ordinary.
For more information be sure the visit the Davis' web site-
Refine Us
and follow on Twitter-
Justin Davis
You can purchase Beyond Ordinary
HERE
or watch the trailer
HERE
.
The publisher provided me with Beyond Ordinary to read and review.
Thanks for stopping by!!
Until later~